The Garden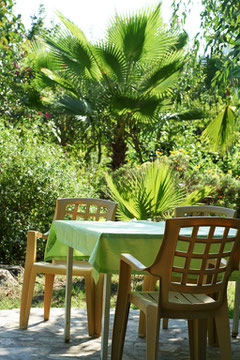 Our garden is a green, luscious oasis, filled with a huge variety of trees, shrubs and flowers. Besides orange and lemon trees, we have mulberry, avocado, fig, pomegranate, apricot and laurel trees. As well as the fruit trees, we have rubber, eucalyptus and ancient pine trees which provide welcome shade during the hot days.

Almost all year round, you can have breakfast and your evening meal in our beautiful garden. A hammock and swinging seat are also provided, and there are lot's of snug corners where one can relax alone, lost in your thoughts and dreams, or together in peace and tranquillity.
Our chickens, geese and guineau fowl run free through the garden, providing a wonderfull flair.